Two people were killed when their helicopter hit a set of power lines and exploded in flames in far northern New York on Tuesday afternoon. Miraculously, two other men in the helicopter who jumped to the ground managed to survive.
The accident took place at about 4:16 p.m. in Beekmantown, New York, which is about 30 minutes south of the Canadian border.
Video showed the helicopter engulfed in flames and falling from power lines.
Breaking News: Helicopter crash in #Beekmantown #NewYork. Video from a witness shows the chopper tangled in power lines before crashing. @_KOBrien is on scene and will be live with new details on @wcax Channel 3 News at 6. pic.twitter.com/XMZwcqD4d0

— Céline McArthur ???? (@CelineTVNEWS) October 30, 2018
According to the Plattsburgh Press Republican, all four men in the helicopter jumped to the ground. Two of the men were taken to the hospital, treated and released.
It is not clear what caused the accident, but Catalyst Aviation, which owned the aircraft, provides equipment and personnel for power-line inspections.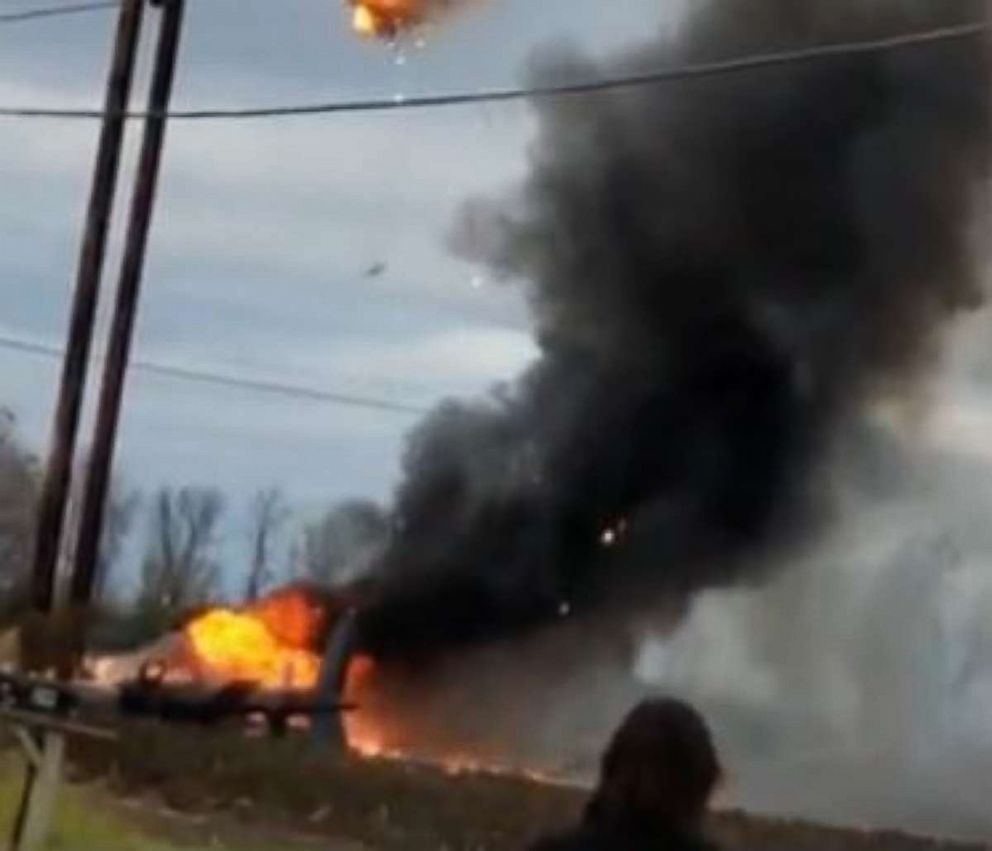 "The helicopter at the time of the incident was working on the power lines or the structure that supports them, and at some point something catastrophic happened that caused the aircraft to crash; that's not been determined yet what really the cause was," Clinton County Emergency Manager Eric Day told Burlington, Vermont, ABC affiliate WVNY.
The accident took place near a large field and no one was injured on the ground.
(MORE: Prince William among those paying tribute to beloved Leicester soccer club owner killed in helicopter crash)
"I saw something off in the distance kind of smoking, [and] thought maybe it was a transformer that had blown up or something, but as I kept coming up on it I saw bigger flames and as I got closer I could tell it was something else but you could see people down in the field doing CPR and the victims and everything," eyewitness Heather Porter told WVNY.
The Federal Aviation Administration and National Transportation Safety Board are investigating the accident.
ABC News' Ahmad Hemingway and Christine Theodorou contributed to this report.