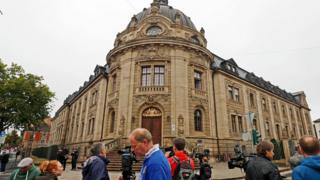 A German court has sentenced an Afghan migrant to eight and a half years for killing his 15-year-old ex-girlfriend.
Abdul D, as he is identified, admitted to stabbing Mia V to death in Kandel in December.
Prosecutors believe he acted out of jealousy after Mia, a German citizen, broke up with him.
The case sparked national outrage, leading to far-right groups holding anti-migrant protests.
Demonstrations have also gripped the city of Chemnitz, after a fatal stabbing involving migrants last month.
Germany's far right march en masse
Germany to probe Chemnitz stabbing leak
German police in far-right protest row
What happened to Mia?
Mia dated Abdul for several months before ending the relationship a few weeks before her death, prosecutors said.
She was stabbed seven times with a kitchen knife outside a shop on 27 December.
She and her parents had previously gone to the police about Abdul's harassing and threatening behaviour.
The murder trial was held behind closed doors in a juvenile court, where prosecutors sought a maximum term of 10 years.
The Afghan said he was 15 at the time, but an expert medical assessment ordered by prosecutors said that he is likely between 17 to 20 years old.
He arrived in Germany in April 2016 and had his request for asylum rejected in February 2017.
German doctors oppose migrant age tests
Migrant row threatens Merkel's coalition
Migration to Europe in charts
Protests against migrants
The case is among a number high-profile crimes committed, or allegedly committed, by asylum seekers, which have stoked anger against migrants and put pressure on Chancellor Angela Merkel over her liberal refugee policy.
Regular demonstrations have been held in the south-western town of Kandel, home to 9,000 people, by the far-right party Alternative for Germany (AfD) in an attempt to bolster its anti-migrant campaign.
On the other side of the country – in the eastern city of Chemnitz – thousands of people have taken to the streets to protest in recent weeks, after a German-Cuban man was stabbed to death there on 26 August, allegedly by a Syrian and an Iraqi.