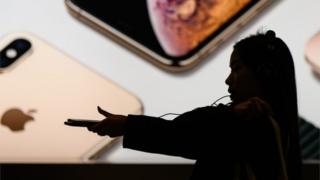 Apple shares opened Thursday down more than 9% at $143 after chief executive Tim Cook blamed a slowdown in China sales for falling revenues.
On Wednesday, the iPhone maker said it expected revenue of about $84bn (£67bn) for the last three months of 2018, down from a forecast of at least $89bn.
The news depressed other US shares. An hour into trading the Dow Jones and the Nasdaq index were down more than 2%.
Shares in fashion firm Burberry are down 5%. LVMH and Hermes were 2% lower.
Those companies are increasingly reliant on Chinese sales.
Like at other consumer goods companies, the festive season is typically Apple's strongest quarter, but revenues of $84bn would mark an almost 5% fall from the same period last year and represent the firm's first year-on-year quarterly decline since 2016.
Wednesday's cut to the sales forecast marked the first time Apple has revised its guidance to investors in more than 15 years, prompting the share price plunge.