A dangerous deep freeze is blasting the Northeast and Midwest, where record-breaking cold temperatures are paralyzing cities and communities.
Interested in
Weather?
Add Weather as an interest to stay up to date on the latest Weather news, video, and analysis from ABC News.
At least eight people have died in connection with the coldest weather in decades across the Northern Plains and Midwest.
The wind chill in Chicago plunged to minus 52 on Wednesday — the coldest wind chill since 1985. It was minus 55 in Minneapolis, also the coldest wind chill since 1985.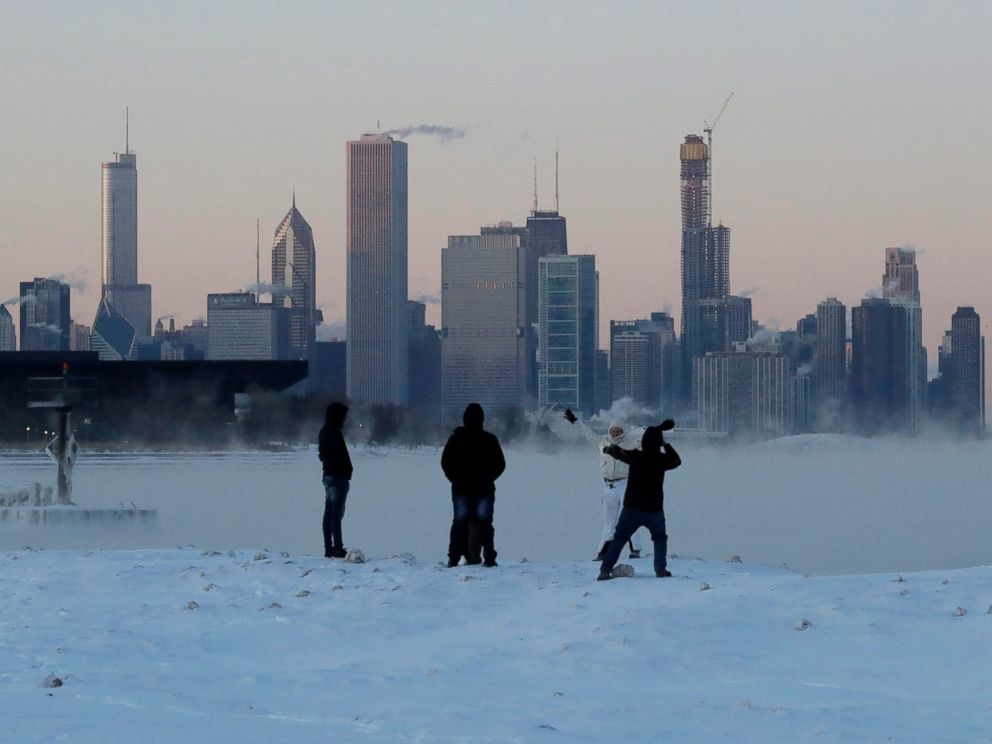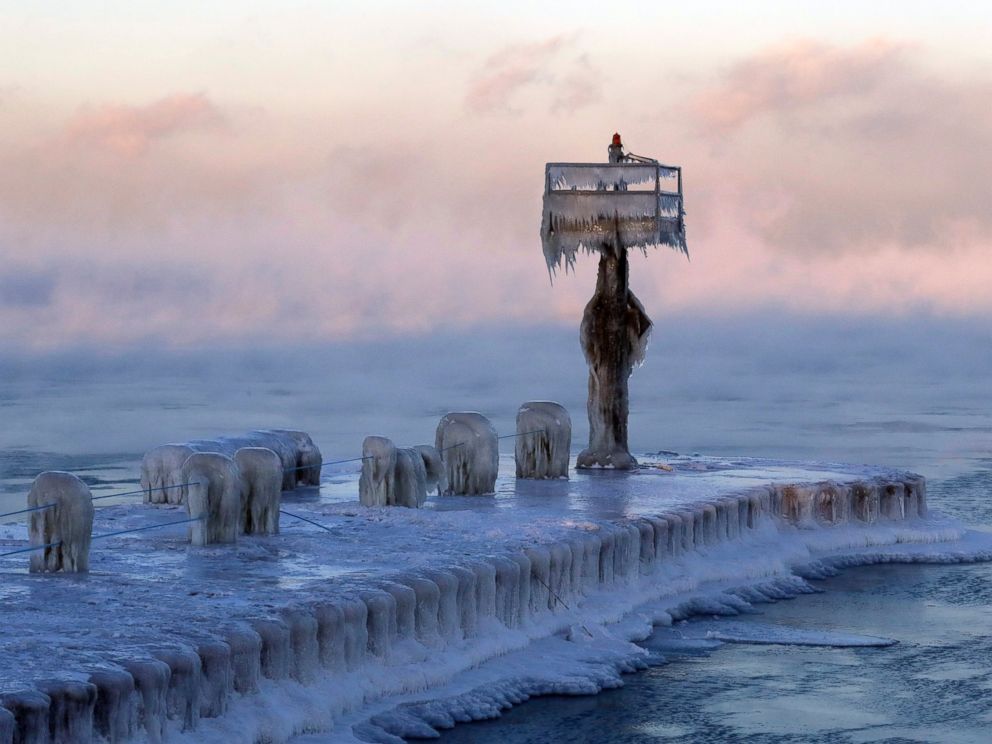 (MORE: How to stay safe in the cold as frigid temperatures hit)
The latest temps
The bone-chilling temperatures are unrelenting in the Midwest, where the actual temperatures — not wind chills — remained in the minus 20s and minus 30s Thursday morning.
-20F, -42F wind chill pic.twitter.com/oDcWGjMmLU

— newsburrow (@newsburrow) January 31, 2019
Two cities in Illinois — Moline and Rockford — hit their all-time coldest temperatures Thursday: a frigid minus 33 degrees and minus 31 degrees, respectively.
Cedar Rapids, Iowa, also set a new all-time coldest temperature of minus 30 degrees.
Record low actual temperatures for this date were recorded in Chicago Thursday: minus 21 degrees; Madison, Wisconsin: minus 26 degrees; and Milwaukee: minus 23 degrees.
Morning views from Chicago's beautiful, frosty Lake Michigan. #PolarVortex2019 #StayWarm pic.twitter.com/KxJ9AaarqJ

— Mayor Rahm Emanuel (@ChicagosMayor) January 31, 2019
In Michigan, Gov. Gretchen Whitmer on Thursday urged residents to turn down their thermostats "due to extremely high energy demand."
(MORE: Firefighters struggle to battle blazes in brutally cold temps)
On the East Coast, New York City had a temperature of 2 degrees — the city's coldest day in three years.
Philadelphia reached a temperature of 5 degrees with a wind chill of minus 11 — the coldest so far this winter.
Boston also fell to 5 degrees with a wind chill of minus 16.
(MORE: 7 stranded on ice rescued amid biting, sub-zero Wisconsin temperatures)
Dangerous and deadly
At least eight people, including two in the Detroit area, have died in connection to the dangerously cold weather, according to The Associated Press.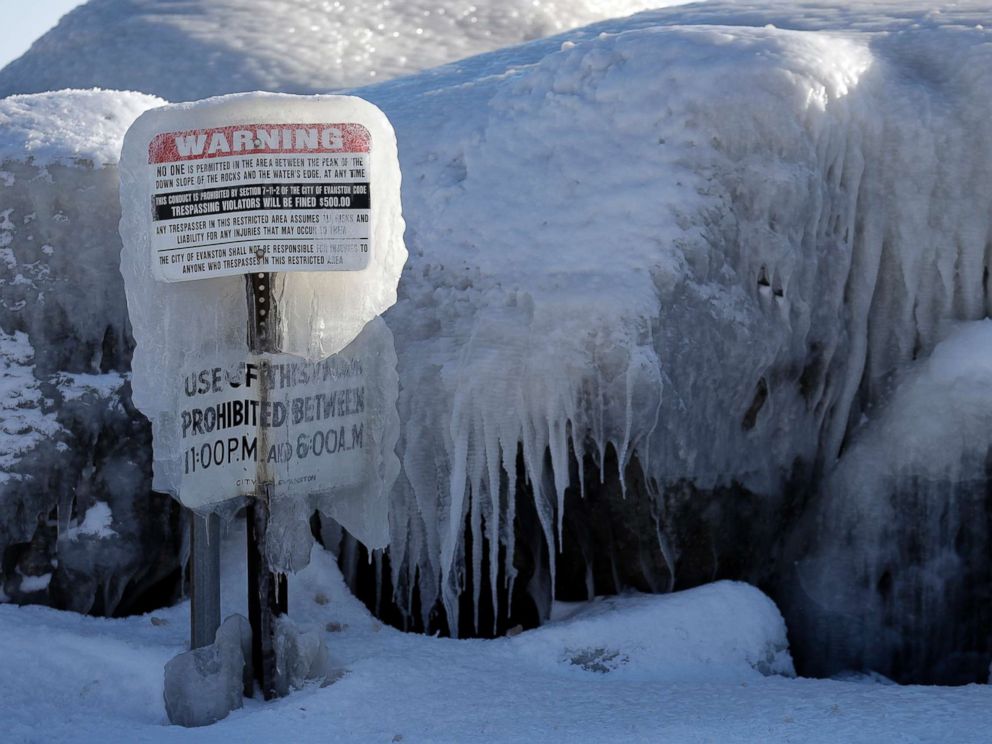 University of Iowa student Gerald Blez, who was studying medicine, died Wednesday, the university said. His cause of death is believed to be weather-related, officials said, according to ABC affiliate KCRG. The wind chill at the time was minus 51 degrees, KCRG said.
In Milwaukee, Wisconsin, a 55-year-old man was "cold and frozen" when he was found dead in a garage near a snow shovel Tuesday, a medical examiner's office official said.
Another man was killed by a snowplow in Libertyville, Illinois, local police said.
(MORE: Homeless among most vulnerable as brutal cold takes over)
States left paralyzed
The weather is wreaking havoc on transportation.
Over 8,000 flights have been canceled in the U.S. since Monday. On Wednesday over 1,800 flights were canceled in Chicago alone.
In Buffalo, New York, where about 20 inches of snow fell, the airport canceled most of its flights Wednesday.
Lake effect snow is set to continue in western New York state with more than 1 foot of snow still possible.
These are the current conditions in and around #Buffalo. The area is under a Blizzard Warning and drivers should avoid travel, if possible. #Snow #Blizzard #PolarVortex pic.twitter.com/KwfJDeLOSI

— NYSThruwayAuthority (@NYSThruway) January 30, 2019
State Police are on the scene and investigating a multiple vehicle crash on the Thruway near Batavia. More than 20 vehicles, including a state police vehicle, were involved in the crash. pic.twitter.com/5cJV9XTnJh

— NewYorkStatePolice (@nyspolice) January 30, 2019
In Ellisburg, New York, snow fell at a rate of 2 to 3 inches per hour on Thursday. Resident Ethan Richardson-Morris called shoveling the driveway "a constant battle." As soon as one side was shoveled, the other side filled up.
"I'm just trying to make it to so my dad can get in the driveway from work," he said.
(MORE: What is a 'frost quake'? Explaining the weather phenomenon)
Friday forecast
The core of the coldest air lifts north back to Canada by Friday but wind chills are still going to be very low.
Friday wind chills are forecast to clock in at minus 16 degrees in Minneapolis; minus 2 in Chicago; minus 7 in Detroit; minus 5 in Boston; and 0 in New York City.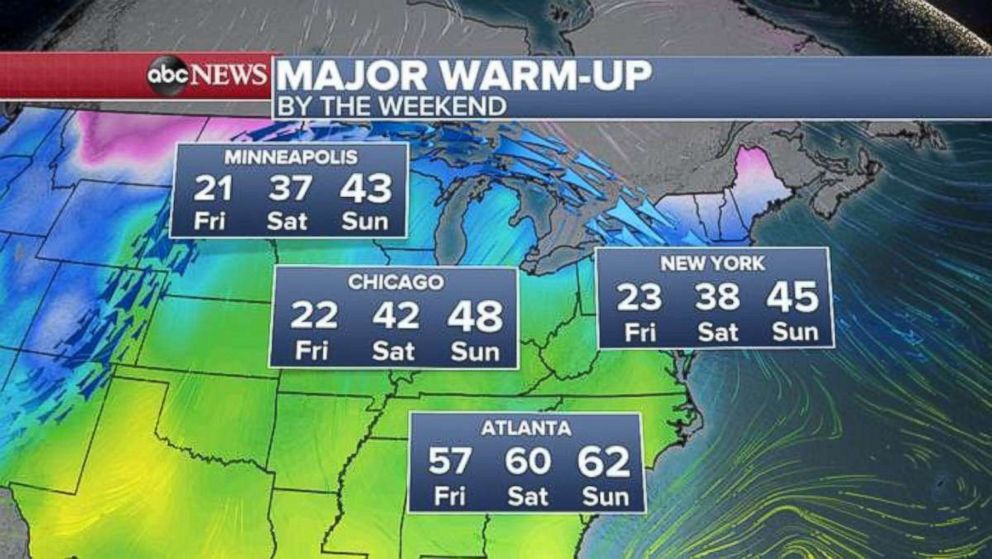 (MORE: 55-year-old man found dead, 'frozen' near snow shovel in Wisconsin garage: Officials)
Weekend warmth
By the weekend, some areas will feel like it's almost 100 degrees warmer than it is now.
In Chicago, where wind chills were in the minus 50s Wednesday, residents will warm up to temperatures in the 40s.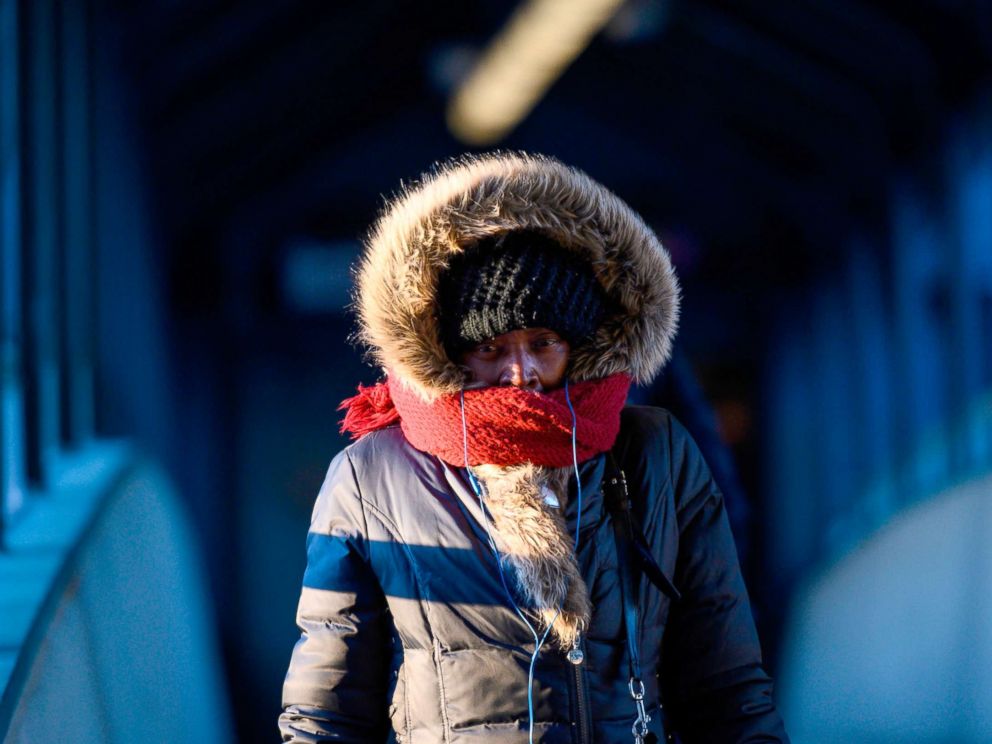 ABC News' Whit Johnson, Carlos Boettcher and Christine Theodorou contributed to this report.