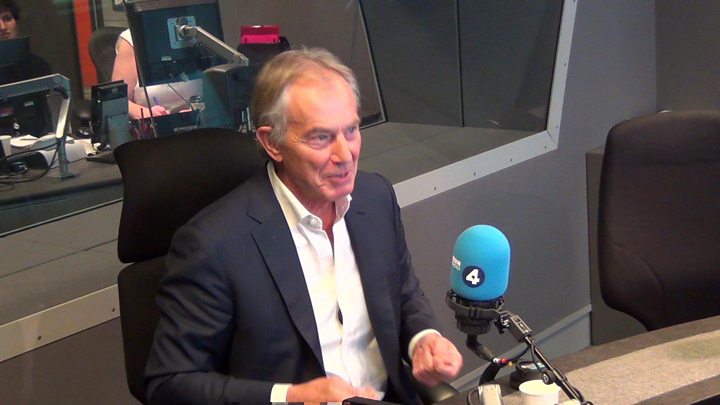 Tony Blair says he is "not sure it is possible" for Labour "moderates" to take the party back from the left.
The former Labour leader told the BBC's Nick Robinson Labour had been through a "profound change" under Jeremy Corbyn.
"It is a different type of Labour Party. Can it be taken back? I don't know," he said.
His remarks provoked a backlash on Twitter and Corbyn supporter Chris Williamson MP told the BBC the party had "never been more united".
Jon Lansman, founder of the pro-Corbyn Momentum movement, said the the party would "never" return to Mr Blair's policies.
He said on Twitter: "Tony Blair was never in the right party and there will never be a return to his politics in UK Labour."
The National Executive Committee member said that Blair-era policies like the minimum wage and Sure Start nurseries should be credited to other leaders.
"Sure Start thanks to Gordon Brown, Min Wage thanks to John Smith, the tragic lost leader we should have had as PM in 1997," he wrote.
Brexit date could be delayed, says Blair
Labour adopts anti-Semitism definition
Labour's message to anti-Semitism critics
Speaking on Nick Robinson's Political Thinking Podcast, Mr Blair said: "I don't think the British people will tolerate a situation where, for example, the choice at the next election is Boris Johnson versus Jeremy Corbyn.
"I don't know what will happen and I don't know how it will happen.
"But I just don't believe people will find that, in the country as a whole, an acceptable choice. Something will fill that vacuum."
He said there was a large constituency of voters who backed "socially liberal, progressive" politics but also believed in "a strong private enterprise sector alongside a state that is capable of helping people".
Mr Blair's name has been linked with the formation of a new "centre ground" party, although he has never publicly backed the idea.
The long march of Jeremy Corbyn's Labour Party
How Tony Blair came to be so unpopular
And the former prime minister told Nick Robinson he was not as pessimistic as some of the people around him about the chances of his wing of the party regaining control of Labour.
"There [are] lots of people associated with me who feel that the Labour Party is lost, that the game's over," he said.
"I am hoping they are not right."
But he said the anti-Semitism row that had engulfed the party was "bad because it has been, in the end, something that I just can't imagine ever having happened in the Labour Party that I joined".
"I can't imagine that we have had three to four months debating over something where we have profoundly insulted the Jewish community in our country," Mr Blair said.
He said the current Labour leadership came from a left-wing tradition opposed to Western foreign policy. Those belonging to that tradition had always been "on the margins" of the party or in a different party, such as the Communists or "Trotskyist groups", he added.
And he rejected comparisons to the early 1980s, when left-winger Michael Foot, who was against EU membership and nuclear weapons and in favour of nationalising industry, was Labour leader.
He said Mr Foot was not as left wing as Mr Corbyn and had tried to expel members of the left-wing Militant Tendency from the party.
Mr Blair is a persistent critic of Mr Corbyn's leadership and warned in 2015 the Labour Party risked "annihilation" if he became leader.
Last year he told the BBC he accepted it was "possible" that Mr Corbyn could become prime minister, in the wake of the 2017 snap election in which Labour defied predictions of a heavy defeat and stripped the Conservatives of their majority.
'Inspiring people'
Under Mr Corbyn's leadership, party membership has swelled from 388,000 at the end of 2015, to a reported 540,000 as of April 2018.
Labour backbencher Chris Williamson, an ally of Mr Corbyn, told BBC Radio 4's Today programme: "I don't really understand what Tony is talking about, the Labour Party now has never been more united.
"We achieved nearly 13m votes in the last election and we are giving hope to millions of people who had become really cynical about politics and inspiring people in a way that I never witnessed in my 42 years as a Labour Party member.
"So I think the party is going frankly from strength to strength.
"The party isn't the Westminster bubble, there are a few people complaining there, but as far as the party in the country is concerned, it's incredibly strong, it's growing all the time, we are making inroads into places we never really had a footprint before and I think the future is looking very positive for the Labour Party under Jeremy Corbyn."