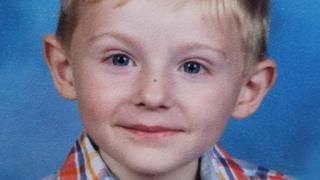 A body has been found in the hunt for a six-year-old boy with autism, who went missing while on a walk in North Carolina.
Maddox Ritch has not been seen since Saturday, when he ran away from his father in a park in Gastonia.
Hundreds of officers were involved in the search for the little boy, who was non-verbal.
The FBI tweeted it was "with heavy hearts" on Thursday that a body "believed to be" Maddox had been found.
Maddox was out with his father Ian and another adult in Rankin Lake Park when he went missing at about midday local time (16:00 GMT).
It is thought he may have been spooked by a jogger, and ran off into the woods.
"I could see him until a certain point," his father told Good Morning America. "He got out of my view, and that is whenever I never seen him again [sic]."
A hunt was immediately launched, with hundreds eventually joining the painstaking search of the area, including sewer lines and drainage ditches.
But on Thursday, the hunt appeared to have come to an end. Gastonia Police Department said a body had been found off Marietta Street and Old Dallas Highway in Gastonia.
Maddox's parents have been informed, the post, shared on Facebook, added. The medical examiner would formally identify the body.
FBI Charlotte tweeted that the investigation was ongoing, while a news conference is due to be held later on Thursday afternoon.