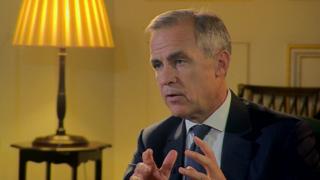 The Bank of England's governor has warned the cabinet that a chaotic no-deal Brexit could crash house prices and send another financial shock through the economy.
Mark Carney met senior ministers on Thursday to discuss the risks of a disorderly exit from the EU.
His worst-case scenario was that house prices could fall as much as 35% over three years, a source told the BBC.
The comments are likely to spark anger amongst Brexiteers.
There were also widespread reports that the governor told the Downing Street meeting that mortgage rates could spiral, the pound and inflation could fall, and countless homeowners could be left in negative equity.
According to the Financial Times a source told the paper that all Mr Carney's predictions were "grim" and "chilling". The FT said the governor took questions from ministers, but there was no hostility.
However, The Sun had a different take on the meeting, reporting that Home Secretary Sajid Javid and Health Secretary Matt Hancock "ripped into" Mr Carney because of his doom-laden briefing.
Mr Carney, who has just agreed to stay on as governor of the central bank until 2020, has faced strong criticism in the past, with Brexiteers accusing him of being part of the Remain camp.
Preparing for two 'no deal' scenarios
Brexit papers: What no deal could mean
Brexit could 're-ignite conflict' in Northern Ireland
Bank holds rates amid Brexit uncertainty
May says £39bn bill linked to Brexit deal
Thursday's briefing is not the first time Mr Carney has warned that a disorderly Brexit could spark an economic shock, and it echoes some of the Bank's previous forecasts.
The Bank's latest annual "stress test" of the UK financial system in November warned of a 33% fall in house prices in a worst case scenario.
In August Mr Carney told the BBC that the risk of a no-deal Brexit was "uncomfortably high".
That comment prompted leading Tory eurosceptic Jacob Rees-Mogg to call Mr Carney "the high priest of Project Fear", while former minister Iain Duncan Smith said "there is no such thing as a no-deal" and the Bank "struggled to understand how this would work".
Following the Downing Street meeting, the Prime Minister's official spokesman said ministers remain confident of a Brexit deal, but agreed to "ramp up" their no-deal planning.
"As a responsible government, we need to plan for every eventuality. The Cabinet agreed that no-deal remains an unlikely but possible scenario in six months' time," the spokesman said.
The Bank of England declined to comment.
Roaming charges
The cabinet meeting was part of a series no-deal planning sessions designed to discuss the "unlikely" scenario that the UK leaves the EU without an agreement in place. After each meeting, planning papers are published on various subjects.
On Thursday, the papers disclosed that UK car drivers may have to get an international driving permit if they want to drive in some European countries after a no-deal Brexit.
The government said that after March 2019 "your driving licence may no longer be valid by itself" in the EU, in its latest no-deal planning papers.
The papers also warned that Britons travelling to the EU may need to make sure their passports have six months left to run.
And, in an interview with BBC Political Editor Laura Kuenssberg, Brexit Secretary Dominic Raab said the government was trying to give the "reassurance that consumers need" on the issue of mobile phone roaming charges but admitted that European operators could pass on charges.
He said: "No, I can't give a cast-iron guarantee. What I can say is that the government would legislate to limit the ability of roaming charges to be imposed on customers."