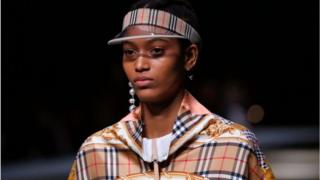 British luxury goods maker Burberry has announced that it will stop the practice of burning unsold goods, with immediate effect.
The fashion label also said it would stop using real fur in its products, and would phase out existing fur items.
In July, an earnings report revealed that Burberry destroyed unsold clothes, accessories and perfume worth £28.6m in 2017 to protect its brand.
The news had led to an angry response from environmental campaigners.
At the time, the retailer said that 2017 had been unusual as it had to destroy £10m worth of old perfume products after signing a new deal with US firm Coty.
Fashion firms including Burberry destroy unwanted items to prevent them being stolen or sold cheaply.
The fight to end fashion's silence on its waste problem
Stella McCartney: Fashion is swamping our planet
Global demand for old clothes declines
Burberry currently uses rabbit, fox, mink and Asiatic racoon fur in its collections, but will stop using them in the future.
The People for the Ethical Treatment of Animals (Peta) foundation told the BBC it welcomed Burberry's decision.
"The few fashion houses refusing to modernise and listen to the overwhelming public opinion against fur are now sticking out like a sore thumb," Peta said.
"If they want to stay relevant in a changing industry, they have no choice but to stop using fur stolen from animals for their coats, collars, and cuffs."
Recycling efforts
Burberry said it already reused, repaired, donated or recycled unsold products, but it would continue to increase these efforts.
The retailer has started a partnership with sustainable luxury company Elvis & Kresse in the past year that will see 120 tonnes of leather off-cuts transformed into new products over the next five years.
At the same time, Burberry also established the Burberry Material Futures Research Group with the Royal College of Art to invent new sustainable materials.
"Modern luxury means being socially and environmentally responsible," said Burberry's chief executive Marco Gobbetti.
"This belief is core to us at Burberry and key to our long-term success. We are committed to applying the same creativity to all parts of Burberry as we do to our products."