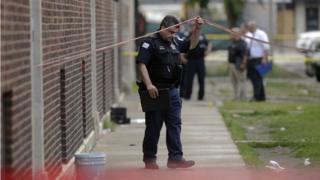 Police in the US city of Chicago have asked for more help to combat gun violence after more than 60 people were shot over the weekend.
At least 10 people were killed in the city and police say most of the shootings were gang related.
"I'm tired of it, everyone in this city is tired of it," police superintendent Eddie Johnson told reporters on Monday.
"We continue to send a message that it's ok to commit these crimes by not doing anything as a community."
Most of the shootings happened on Sunday with 30 people shot between midnight and 03:00.
The majority of the incidents reportedly occurred in Chicago's south and west sides.
Five ways Trump can help Chicago
America's gun culture in 10 charts
'It's easier to buy a gun than spray paint'
At Monday's news conference, Mr Johnson said that police had "really good leads on quite a few" of the suspected shooters, but no arrests have been made.
He said "the city isn't on fire," but emphasised the need for community members to identify the individuals causing the violence.
"Certainly CPD [Chicago Police Department] can do better but at the end of the day, the members of CPD don't go to bed with these individuals at night, they don't wake up with them in the morning," Mr Johnson said.
"Somebody knows who did it. They hold me accountable, they hold the mayor accountable, they hold the city council accountable – where's their accountability? I never hear people saying these individuals out here in the streets need to stop pulling the trigger."
Mayor Rahm Emanuel echoed Mr Johnson's call for citizens to speak out.
"All of us who love this city and call it home have a responsibility to heal our neighbourhoods," he said.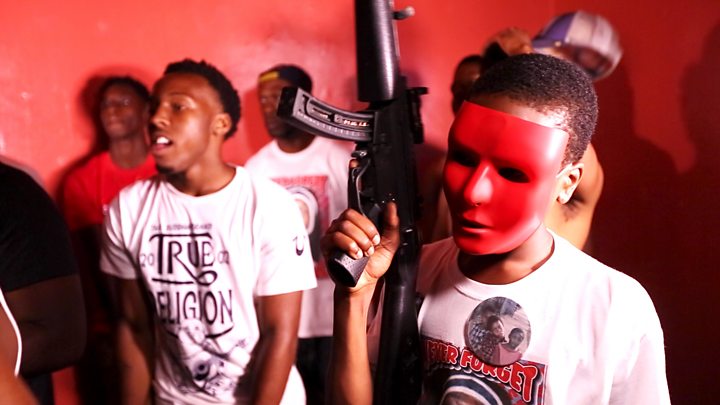 Police called it one of Chicago's "most violent weekends" on Sunday.
Donovan Price, a pastor and emergency administrator, told CBS News that the city was like a "war zone".
"This is just out of control right now," he said. "It's a war zone going on right now. Chicago is just crazy."
"This is the worst I've ever seen it," one police officer who was stationed outside a hospital told the Chicago Sun Times newspaper. "It's hot right now. There's a lot of tension… and it might get worse."
But officials say the spike in violence is at odds with the general trend in the city, where shootings are said to be decreasing.
Earlier this month, the Chicago Tribune reported that there had been 532 fewer shootings this year compared to 2017.
Police chief Waller told reporters that shootings had decreased by 30% from 2017, and murders by 25%.
He said that much of the weekend's violence was a result of gang members shooting at large crowds indiscriminately.
"An offender or some type of rival gang sees a large group of people… and they shoot into a crowd, no matter who they hit," he said.
"We won't be overrun by that small group, that small element that is committing these reckless acts."
US President Donald Trump has repeatedly vowed to intervene in Chicago, and last year he said that crime and killings had reached "epidemic proportions" in the city.
Last June, officials announced the creation of the Chicago Gun Strike Force which comprises city police officers, state troopers, federal agents and intelligence research specialists.
It was created to help curb the flow of illegal guns and to target repeat gun offenders, who authorities say are responsible for the city's violence problem.