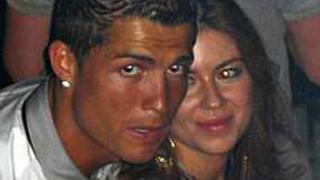 Kathryn Mayorga, the former teacher who has accused footballer Cristiano Ronaldo of raping her in 2009, was inspired to speak out by the #MeToo movement, her lawyer has said.
"The MeToo movement and the women who have stood up and disclosed sexual assaults has given Kathryn a lot of courage," Leslie Stovall said.
Ronaldo has "firmly" denied assaulting Ms Mayorga at a Las Vegas hotel.
He spoke out ahead of her lawyers giving a press conference on Wednesday.
The Juventus forward, 33, said he was calm over "any and all investigations" as he had a "clear" conscience over the allegation.
What did Ms Mayorga's lawyer say?
Ms Mayorga did not attend the press conference. Her lawyer Mr Stovall said she had left Las Vegas to escape the media scrutiny.
"She has decided not to make herself available to the media and stay out of the public because of her emotional state," he told reporters. "It is not pleasant for her."
In a lawsuit, Ms Mayorga says she met Ronaldo at the Rain Nightclub in the Palms Hotel and Casino, and that he raped her in his penthouse suite.
Mr Stovall said his client had suffered from major depression and considered suicide since the alleged assault almost a decade ago.
He said a psychiatrist had diagnosed Ms Mayorga with post-traumatic stress disorder.
The lawyer said that Ronaldo has 20 days to respond to Ms Mayorga's lawsuit. Her legal team are considering releasing documents linked to the case, including the initial police report and medical records.
How has Ronaldo responded?
The Portuguese international had previously said the allegation, first reported in German magazine Der Spiegel, was "fake news".
On Wednesday, he issued a statement through his Twitter account: