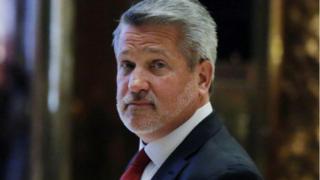 Former co-president of Fox News Bill Shine is the latest addition to the Trump administration staff, the White House has announced.
President Donald Trump said on Thursday that Mr Shine will replace Hope Hicks as his assistant and deputy chief of staff for communications.
Mr Shine resigned from Fox News in 2017 amid several sexual harassment scandals at the news organisation.
Women's rights groups have criticised the decision.
The White House statement said Mr Shine "brings over two decades of television programming, communications, and management experience to the role".
He is now the president's fifth communications director following the departure of Ms Hicks in February.
Close Trump aide Hope Hicks resigns
Roger Ailes and the dawn of hyper-partisan television
Key takeaways from Trump's Fox News interview
Mr Shine left Fox News in May of last year after allegations of sexual harassment arose against the late Fox News boss Roger Ailes and host Bill O'Reilly.
Lawsuits suggested Mr Shine covered up Mr Ailes' scandals, US media reported.
Mr Shine himself was not accused of any sexual misconduct and had worked with Fox for over 20 years.
---
Another day, another communications director
Anthony Zurcher, BBC News, Washington
Communications directors in the Trump White House have the employment life expectancy of Spinal Tap drummers. That may explain why there's been a bit of hesitation among some conservatives to embrace the latest choice for this position, who comes with more than a little political baggage already.
There's no doubt that Bill Shine was an effective member of the Fox News executive suite. The problem, however, are the allegations that he was particularly effective in squelching any number of sexual harassment and workplace misconduct charges that swirled around Fox News under the tenure of the late Roger Ailes.
Those allegations cost Mr Shine his job – but they didn't stop Mr Trump from turning to the ousted Fox co-president to help craft his administration's public messaging.
Mr Shine has more than a few enemies in Washington, but it may have been one of his biggest supporters – top-rated Fox News host and presidential confidante Sean Hannity – who helped land him the White House job.
Now his assignment is to bring order to the sometimes chaotic administration communications shop, which is frequently undercut by a president inclined to craft his own talking points – or draw them from what he watches on Fox News.
Come to think of it, that may make Mr Shine a good fit for the job.
---
The National Women's Law Center (NWLC) called the move unsurprising but "appalling".
"It shouldn't be a surprise – that President Trump has rewarded Bill Shine's abysmal record of enabling and concealing sexual harassment," said Fatima Goss Graves, president of the NWLC.
"The President's choice runs counter to widespread efforts to address and prevent sexual harassment at this moment of reckoning. This country deserves better."
The president's son, Donald Trump Jr, took to Twitter after the White House announcement, calling Mr Shine "competent, hard working and a believer in making America great again".
Conservative media host Sean Hannity, who is a friend of Mr Trump, was one of Mr Shine's supporters at Fox News.
But the decision to hire Mr Shine has faced some pushback from conservatives as well.
Larry Klayman, a right-wing leader, told The Daily Beast earlier this week that "the president does not need unnecessary controversy as this time by naming Shine" to the position.