Hurricane Florence is slamming into the East Coast, knocking out power in North Carolina, dropping torrential rains and inundating several areas with floodwater.
Interested in
Hurricane Florence?
Add Hurricane Florence as an interest to stay up to date on the latest Hurricane Florence news, video, and analysis from ABC News.
Here is a look at the dangerous storm by the numbers:
(MORE: Hurricane Florence to bring dangerous storm surge: What you need to know)
5: The number of fatalities so far. The first death attributed to Florence was in coastal Pender County, North Carolina. An official there called it a "storm-related medical fatality" but did not elaborate.
Police in Wilmington police disclosed that a mother and an infant were killed when a tree fell on their home. The husband was transported to a local hospital with injuries, according to police.
North Carolina Gov. Roy Cooper said one person died in Lenoir County while plugging in a generator. Lenoir County Emergency Services Director Roger Dail later noted that it was a 78-year-old male in Kinston who was electrocuted when he was trying to connect two extension cords outside in the rain.
Dail reported that the fifth reported death also occurred in Kinston, which was that of a 77-year-old man. His body was discovered at his residence this morning by family members and it is believed that he died when he was blown down when he went outside to check on his hunting dogs.
105 mph: As the storm made landfall Friday morning, Wilmington, North Carolina, was hit by a 105 mph wind gust, the strongest wind in the city since 1958.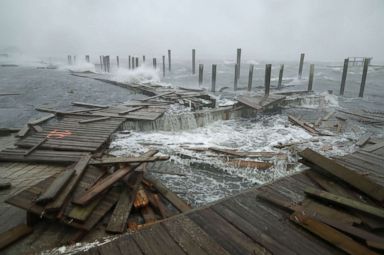 150: The number of people who needed to be rescued in flooded New Bern, North Carolina, where water levels reached 10 feet overnight.
The downtown area, at the confluence of two rivers, is mostly underwater.
Volunteers are using private boats to pitch in and help, city spokeswoman Colleen Roberts said.
New Bern resident George Zaytoun, who chose not to heed evacuation warnings and is now trapped inside his home, told "Good Morning America," "It's like a bomb has gone off."
"Everything around us is underwater," he said.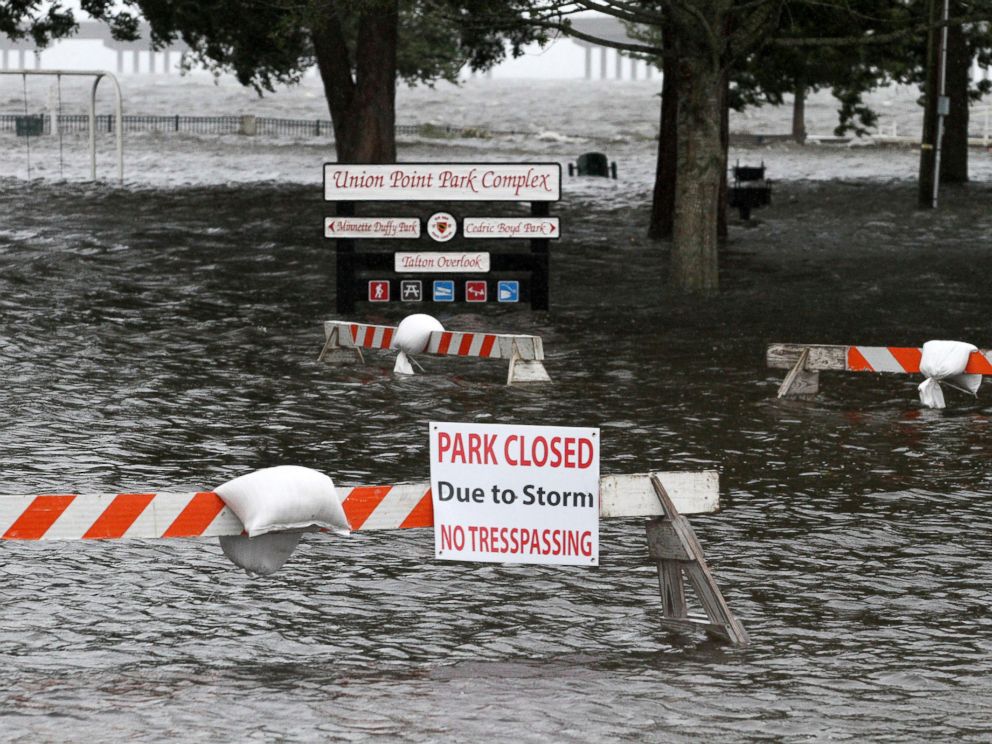 (MORE: Mom, 5 kids hunker down in North Carolina as 'crazy and frightening' Hurricane Florence hits home)
"This is twice the size of Hurricane Hugo," which tore through the Carolinas in 1989, New Bern Mayor Dana Outlaw told "Good Morning America."
At least 100 people have been rescued from New Bern as of Friday morning, North Carolina Gov. Roy Cooper said.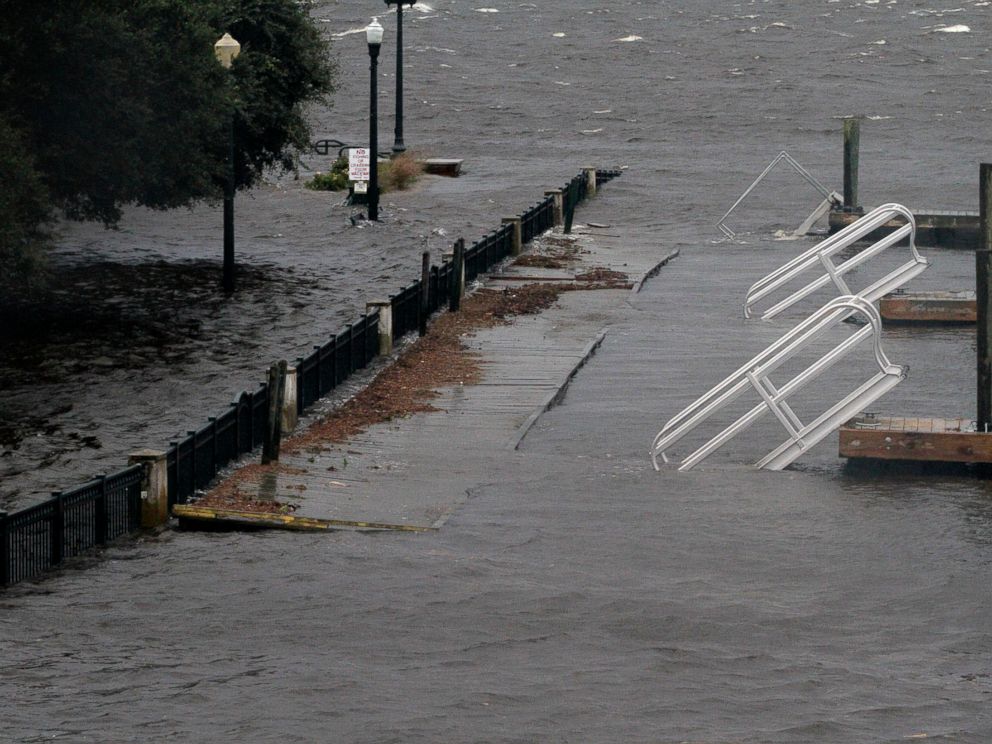 (MORE: Hurricane Florence forecast: Tracking the storm as it barrels through the South)
310: Number of volunteers from nine different states helping the Cajun Navy with rescues.
57: Number of people the Cajun Navy says they rescued Friday morning, according to the founder of the group, Todd Terrell.
23 inches: As of 11 p.m., Newport and Morehead City had received about 23.50 inches of rainfall, about a half inch shy of breaking the all-time rain record for North Carolina of 24.06 set in 1999 during Hurricane Floyd. Swansboro had received 14.26 inches of rain, while Wilmington received 8.69 inches.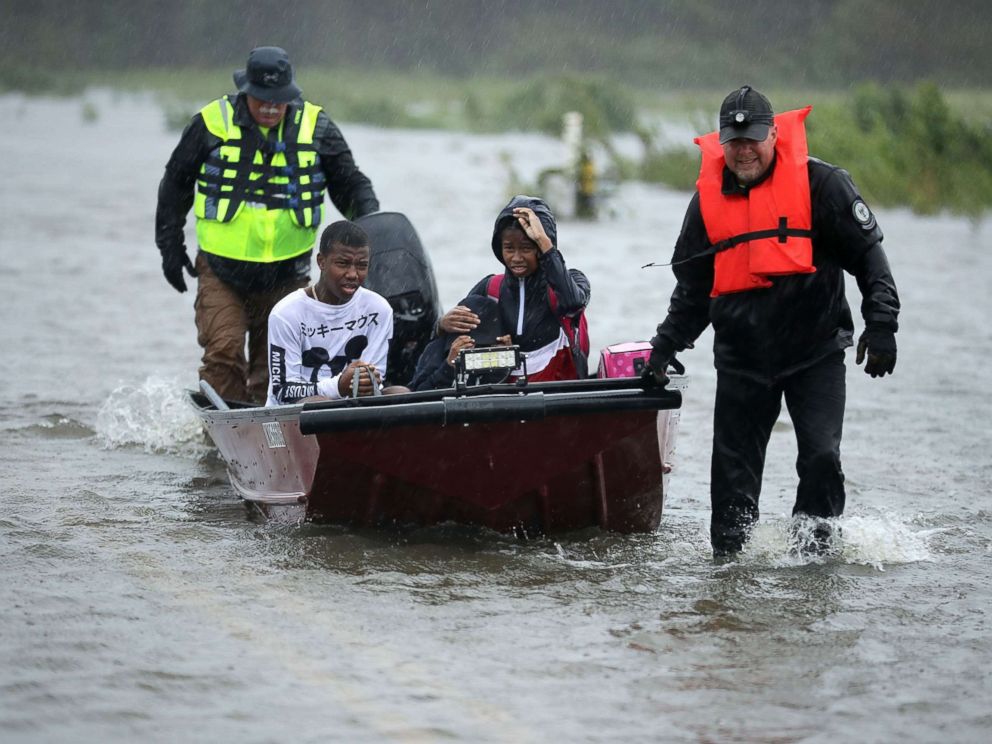 773,903: Number of customers without power in North Carolina.
133,342: Number of customers without power in South Carolina.
30: Number of collisions overnight as road conditions deteriorated, according to the North Carolina State Highway Patrol.
1 million: Up to 1 million people have evacuated their North Carolina homes, Gov. Cooper said Friday.
20,000: More than 20,000 people in six states — North Carolina, South Carolina, Virginia, Georgia, Maryland and Tennessee — took shelter in 206 Red Cross and community shelters on Thursday.
730,000: The number of blankets available for evacuees. Six-thousand cots and 6 million meals have also been provided.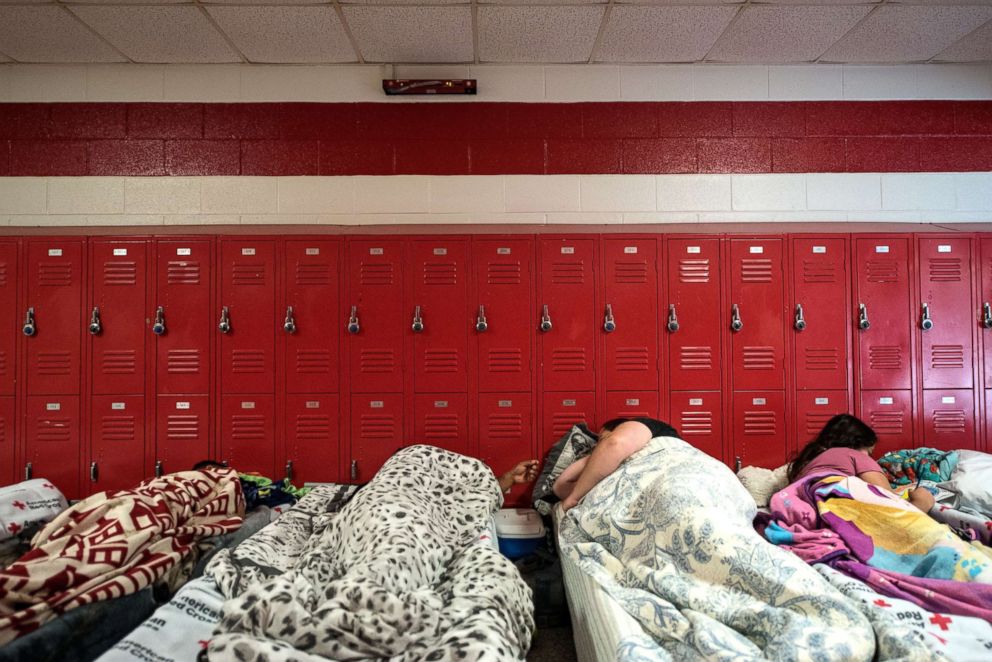 (MORE: How to help those impacted by Hurricane Florence)
11 feet: Storm surge may reach this point in parts of North Carolina.
"People do not live and survive to tell the tale about what their experience is like with storm surge," FEMA administrator Brock Long told "GMA."
40 inches: Rainfall could reach this point.
2,800: Number of North Carolina National Guard soldiers and airmen and airwomen who are activated. More than 500 of them are already responding to calls across the state.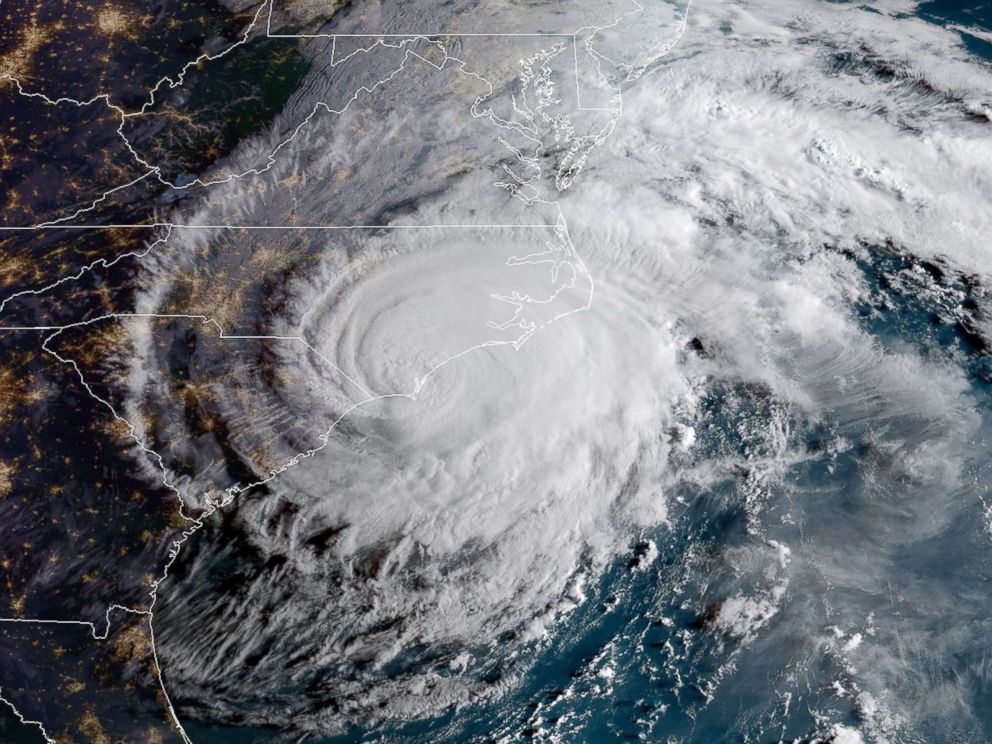 13: Number of nuclear reactors the Nuclear Regulatory Commission is monitoring near Florence's path.
19: Number of states sending teams to help North Carolina with Florence.
ABC News' Rachel Katz, Morgan Winsor and Dom Proto contributed to this report.