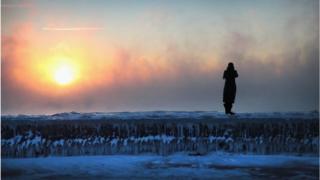 As a third of the US grapples with brutally cold weather, scientists are assessing how much this might be down to long-term changes to our climate.
So whatever happened to global warming?
That's certainly what President Donald Trump wanted to know when he tweeted this a couple of days ago:
There is no question the Midwest is cold – very cold.
Just check the advice from the US National Weather Service. It has warned that the current low temperatures could easily "freeze the flesh off your bones".
Don't leave home if you can avoid it, the NWS in Iowa urged, and if you do have to go out, "avoid taking deep breaths; minimise talking".
Meanwhile the internet is heaving under images of snow and ice.
My favourites include the icy steam pouring off lake Lake Michigan and the thousands of people who have been doing the "hot water challenge".
But this wonderfully surreal image of a fork frozen in a cascade of noodles wins for me.