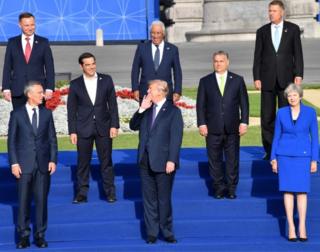 Nato leaders plan to turn their attentions to the conflict in Afghanistan, on the second day of a summit so far dominated by demands from President Donald Trump.
Mr Trump on Wednesday urged Nato allies to commit 4% of their annual output (GDP) to military spending.
He also singled out Germany for criticism over its defence spending.
Nato leaders are hoping for a more conciliatory tone on Thursday before Mr Trump leaves for the UK.
In early-morning tweets from Brussels, the US president resumed his criticism.
"The U.S. pays tens of Billions of Dollars too much to subsidize Europe, and loses Big on Trade!" he declared.