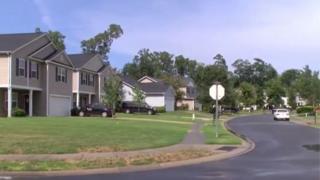 Police in North Carolina are searching for a teenager who they say robbed a nine-year-old boy at gunpoint while the child was selling lemonade.
Investigators say the assailant "stuck a black handgun to the boy's stomach" before fleeing the scene with $17 (£13) in cash on Saturday afternoon.
On Sunday the boy returned to sell drinks at the community pool in Monroe, about 30 miles (50km) from Charlotte.
Within hours, he had raised over $250 for his landscaping business.
Neighbours told WCNC-TV that the boy's organic lemonade stand is well known in the neighbourhood, and that he is an entrepreneur who also mows lawns in the community.
"Never thought in a million years I'd be racing off to pick him up with somebody pointing a gun at him and taking his money from just a simple thing of selling lemonade," said Philip Smith, the boy's father.
The money that he raised after the robbery will be used to buy a riding lawnmower, his father said.
Deputies say the teenager wore a camouflage hat and a black shirt when he robbed the boy, and may have stashed a bicycle in the woods which he used to flee the scene.
Detectives later found a trail in the woods, where they recovered the hat, a BB gun they believe was used in the crime, and a metal box where the boy had kept his earnings.
"I've never heard of a lemonade stand robbery," said Tony Underwood of the Union County Sheriff's Office on Sunday.
"You know, I think people are capable of a lot of things but not robbing a child at a lemonade stand. That one takes it to a new level."
Mr Smith said that his son will continue to sell lemonade, but with added safety precautions.
"It's not going to stop us," he said. "We're going to keep selling lemonade."