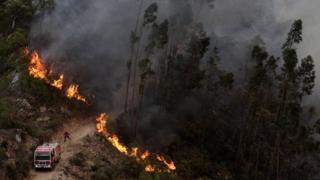 More than 700 firefighters are battling a major wildfire in southern Portugal, as temperatures in some areas approach record levels.
Forecasters said they expected 46-7C (115-117F) in central parts. The national record is 47.4C (117.3F).
Soaring temperatures continued in Spain, where three deaths by heatstroke were reported.
A Europe-wide heatwave in recent weeks has seen drought and wildfires across the continent.
Temperatures above 40C in Spain and Portugal are expected to continue at least until Sunday.
The side effects of the European heatwave
In pictures: Europe heatwave
Portugal's Civil Protection Agency has been sending mobile text alerts warning of extreme fire risk in some areas, as they seek to avert casualties. Dozens of people were killed in two major forest fires last year.
Friday saw local all-time record temperatures at almost half the country's weather stations.
A major fire broke out on Friday in Monchique, in the southern Algarve region, consuming more than 1,000 hectares of forest and forcing evacuations from one village.
Though the region has avoided the worst of the heat, the fire has been spreading through eucalyptus forest and dense undergrowth, the Civil Protection Agency says.
Meanwhile in Spain, media reports said two people died of heatstroke in the southeastern Murcia region, while a third – believed to be homeless – died in Barcelona.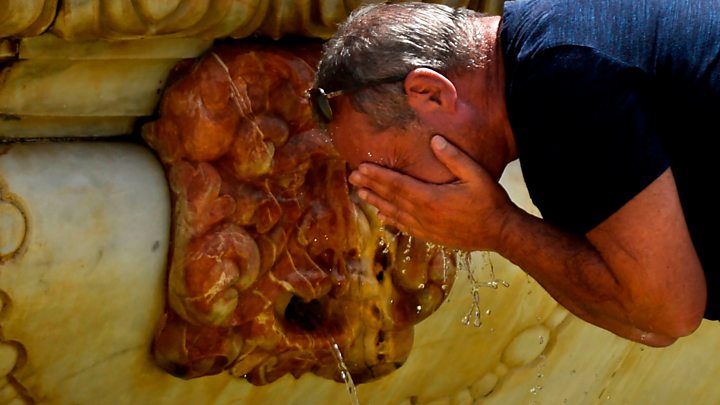 Temperatures are expected to reach 45C in the southern city of Cordoba. Wildfires have been raging near Nerva, southern Spain, and near the capital Madrid.
Elsewhere in Europe:
Four nuclear reactors in France were forced to close because of the heat
Some sections of road closed in the Netherlands after asphalt melted in the heat
Temperatures remain in the high 20s in southern England
But in Sweden temperatures have dropped and some areas see rain showers after the country's hottest July for 250 years, which saw dozens of wildfires
The sweltering Iberian temperatures follow weeks of sustained heat across Europe, which saw Sweden's highest peak – a glacier – melting at a rate of several centimetres a day.
In Greece high winds fanned dangerous wildfires which killed more than 90 people.
Researchers said that climate change made Europe's extended heatwave twice as likely as it would otherwise have been.