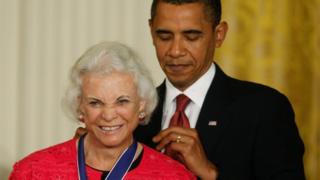 Former Supreme Court Justice Sandra Day O'Connor has announced she is withdrawing from public life after being diagnosed with dementia.
In a letter released on Tuesday, the 88-year-old said doctors had diagnosed her with early stage dementia and "probably Alzheimer's disease".
Justice O'Connor was the first woman to be appointed to the US top court, and a key swing vote. She retired in 2006.
She served as a visiting judge and civics educator after retiring.
In a public letter, addressed to "friends and fellow Americans", Justice O'Connor said doctors first diagnosed her "some time ago".
"As this condition has progressed, I am no longer able to participate in public life," she wrote.
"Since many people have asked about my current status and activities, I want to be open about these changes, and while I am still able, share some personal thoughts."
Who is Sandra Day O'Connor?
Meet the Supremes – the judges on the top US court
The former justice went on to detail her passion for civic engagement, which led her to create her iCivics education programme eight years ago to help teach young students about their government.
"As my three sons are tired of hearing my say, 'It's not enough to understand, you've got to do something.' There is no more important work than deepening young people's engagement in our nation," she said.
She said her current physical condition means she can no longer help lead this cause.