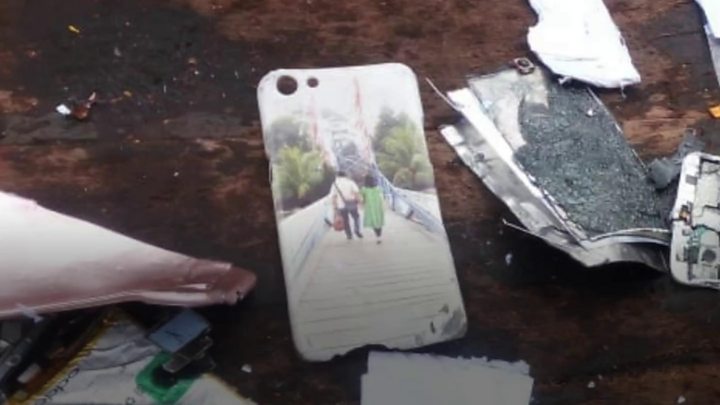 Drones and sonar technology have been deployed in Indonesia to search for a Lion Air passenger plane which crashed into the sea on Monday.
Flight JT 610 went down after taking off from Jakarta with 189 passengers and crew on board.
There has been no sign of survivors but debris and personal belongings have been collected from the water.
There is no indication yet of what caused the plane to go down 13 minutes after taking off.
Officials say the pilot of the Boeing 737, which was heading for the western city of Pangkal Pinang, had asked to return to Soekarno-Hatta airport shortly before losing contact with air traffic control.
A log obtained by the BBC showed the plane had encountered technical problems while flying from Bali to Jakarta the previous day.
The log showed one instrument was giving "unreliable" airspeed readings and the captain had to hand over to the first officer. Altitude readings also differed on the captain and first officer's instruments.
Lion Air's chief executive Edward Sirait said on Tuesday that the plane had been repaired before taking off again.
'Her face fills my mind'
By Rebecca Henschke, BBC News, Jakarta
Another day of waiting for the families and loved ones of those on board.
Now they sit outside Jakarta's police hospital where bodies are being brought.
Lion Air is providing free flights from Bangka for families, like Surya's.
"They have all come hoping for some closure and certainty," she says. Her younger sister was on the plane. "We want a body to grieve. She was the youngest in our family, so we all loved her very much. It feels very painful to lose the baby of the family."
Outside the hospital I meet Murtado Kurinawan, whose newly-wed wife was on the plane, travelling for work.
He has brought her toothbrush in the hope it will help with the identification process. "I can't stop thinking about her. Her face fills my mind all the time," he said.
The head of Indonesia's disaster agency, Sutopo Purwo Nugroho, said on Twitter that sonar devices were being used in the waters near Karawang – the plane's last known point of contact.
Mourning siblings and mystery couple on ill-fated plane
How could a brand new plane crash?
Rescuers say they are hopeful of finding the fuselage. They are also looking for the flight data recorder.
Search teams have been retrieving body parts, aircraft debris and personal items. Body bags are being taken to Jakarta for identification.
Another search official, Yusuf Latif, earlier said it would be "a miracle" if survivors were found.
Mr Sutopo has also warned against hoaxes that have been spreading on social media, including pictures that users claimed were taken by passengers in their last moments before the plane went down.
How likely are you to survive a plane crash?
Air disasters timeline
In a statement, Boeing said it stood "ready to provide technical assistance to the accident investigation".
Indonesia, a vast archipelago, is heavily reliant on air travel but many of its airlines have a poor safety record.
It has had issues of safety and poor management in the past and was banned from flying into European airspace until 2016.