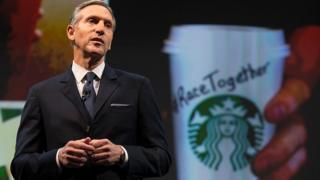 Former Starbucks chief executive Howard Schultz has angered Democrats by considering an independent campaign for president in 2020.
They are condemning the billionaire's idea as a "vanity project" that would only help President Donald Trump.
Political strategists say such a third-party candidacy would divide the left, taking votes from the president's yet-to-be nominated Democratic challenger.
Mr Schultz said he would run as a centrist.
Why the outcry?
Neera Tanden, president of the liberal think tank Center for American Progress and confidante of failed 2016 Democratic candidate Hillary Clinton, tweeted: "Vanity projects that help destroy democracy are disgusting.
"If he enters the race, I will start a Starbucks boycott because I'm not giving a penny that will end up in the election coffers of a guy who will help Trump win."
Michael Bloomberg, another billionaire who previously considered an independent bid, released a statement criticising Mr Schultz's decision without specifically naming him.
Ex-Starbucks boss ponders presidential bid
He said: "The great likelihood is that an independent run would just split the anti-Trump vote and end up re-electing the President.
"That's a risk I refused to run in 2016 and we can't afford to run it now."
Dan Pfeiffer, a former adviser to Barack Obama, tweeted: "This half-baked idea… will pose an existential threat to a Democrat in what will likely be 2020 race decided by a few votes in a handful of states."
Jennifer Palmieri, a former campaign adviser to Mrs Clinton, tweeted: "Pfeiffer speaks the truth."
Larry Sabato, who directs the University of Virginia's Center for Politics, tweeted that Mr Schultz's slogan "might as well be, 'Re-elect Trump'".