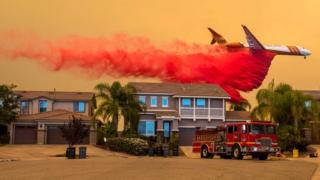 Authorities have arrested a man for starting the so-called Holy Fire, which has burned over 9,600 acres through the mountains of Southern California.
Forrest Gordon Clark, 51, had emailed the local volunteer fire chief to threaten "this place will burn", according to Orange County officials.
Over 600 firefighters are battling the Holy Fire, which is just one of 18 wildfires raging across the state.
The Mendocino Complex fire has been declared the largest in state history.
California wildfire 'largest in history'
The photos that explain the world's wildfires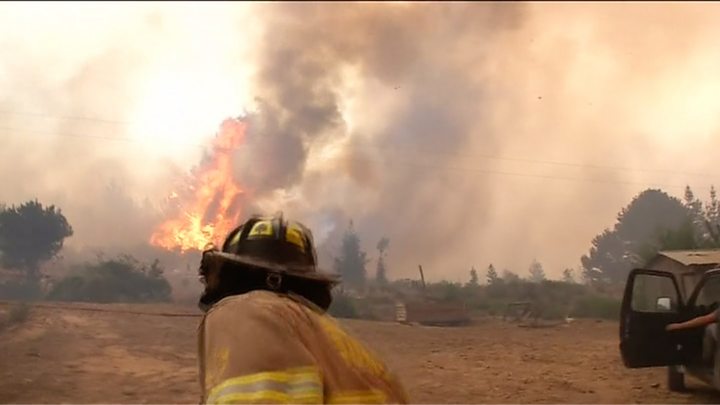 Mr Clark was arrested outside his cabin on Tuesday after a brief standoff with officers.
He was charged with arson, felony threat to terrorise and resisting arrest.
He was booked in jail on a $1m bond in relation to the fire, which continues to burn in the Santa Ana Mountains south of Los Angeles.
Authorities say he intentionally started the fire on Monday after decade-long dispute with neighbours.
All twelve nearby properties were burned by the fire, with only Mr Clark's home left standing.
Susan Schroeder, spokeswoman for the Orange County district attorney's office, said her office would "bring him to justice for these terrible crimes".
More than 600,000 acres across the state have been consumed by this year's fire season, which experts warn is growing longer each year.
Over 14,000 firefighters are working across the state, with crews from Australia and New Zealand assisting.
Prisoners, including fewer than 100 juvenile offenders, are also lending a hand in exchange for only a few dollars a day.
Two firefighters have been treated for heat-related injuries in the Holy Fire.
Officials say that fire is only 5% contained as temperatures continue to stay above 90F (32C).
But they are hopeful that weather conditions will improve when temperatures fall over the weekend.
Meanwhile, evacuations continued on Wednesday as the Holy Fire flames approached within a half mile of homes.