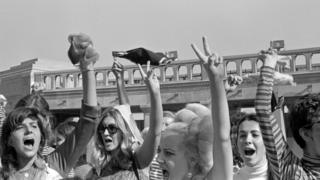 Fifty years ago, a protest against a Miss America beauty pageant in New Jersey sparked off the iconic – and mythical – image of the "bra-burning feminist".
A group of women hurled mops, lipsticks and high heels into a "Freedom Trash Can".
The idea was to symbolically throw away things that oppressed women, says Robin Morgan, one of the organisers. Passers-by were invited to join in.
"I remember one young woman took off her bra," Ms Morgan tells BBC 100 Women. "[She] eased it out from under her shirt and threw it in to great cheers."
It was a gesture that made headlines around the world, securing the protesters a place in history.
Although most of the women who took part in the Freedom Trash Can event had previous experience in the civil rights or anti-Vietnam War movements, none had ever demonstrated for women's rights before.
"We were young radicals, just discovering feminism because we were tired of making coffee but not policy," says Ms Morgan.
They had also realised that this was a fight they needed to take on themselves.
"We already knew that the male right was not our friend," she says.
"We thought the male left were our brothers [but] discovered that was not really the case when we talked about our own rights."
None of the women could have imagined that their protest would still have resonance, 50 years on.
they remember that the can was set alight but that "the fire was small, and quickly extinguished". Ms Morgan is adamant there was no fire.
"It's a myth that we've been trying to squelch for years," she says, clearly exasperated at something she feels has trivialised what the protest was really all about.
Back in 1968, the Miss America pageant rewarded a very specific type of female beauty.
Although requirements that contestants must be "of good health and of the white race" had been abandoned almost two decades earlier, the pageant had never had a non-white winner.
Northwest Quarterly back in 2014.
"I had people tell me it was a cattle show and that I was being exploited. But the goal of the Miss America pageant is to promote women and give them opportunities and scholarships that they might not get otherwise."
The prize supported Ms Nash's degree in physical education.
"For me, the Miss America experience was extremely beneficial," she said.
Fifty years on, women's rights are high on the US news agenda again, with the Women's Marches and #MeToo garnering headlines. Record numbers of women are also standing for election across the 50 states.
"It's just too wonderful for words," says Ms Morgan.
"Many of these women have never been political activists before.
"They're homemakers and teachers and they work as cashiers and baggers and they've just decided, 'Enough already. Enough.'"
So what would Ms Morgan throw in the Freedom Trash Can today?
"Symbols of all major religions," she says. "Because they're all patriarchal."
"I thought of really high-heeled shoes and control underwear – which basically are corsets – and I thought of copies of violent pornography. I think I would throw in drugs like opioids and diet pills.
"At the heart of me, I'm a poet. Symbols and metaphor – I understand the power of them and the power of the Freedom Trash Can."
What is 100 Women?
BBC 100 Women names 100 influential and inspirational women around the world every year. We create documentaries, features and interviews about their lives, giving more space for stories that put women at the centre.
Follow BBC 100 Women on Instagram and Facebook and join the conversation.