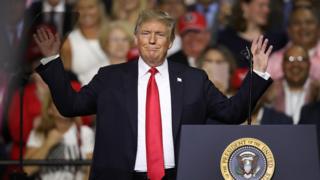 US President Donald Trump has been accused of being out of touch with voters after saying Americans need identification to go shopping.
At a rally in Tampa, Florida, he said: "You know, if you go out and you want to buy groceries, you need a picture on a card, you need ID."
ID is not required at US supermarkets unless for buying alcohol or, in some cases, for credit card purchases.
The Republican president was arguing for tougher ID checks on voters.
"You go out and you want to buy anything, you need ID and you need your picture," he told the crowd at the "Make America Great Again" rally on Tuesday night.
"In this country, the only time you don't need it in many cases is when you want to vote for a president, when you want to vote for a senator, when you want to vote for a governor or a congressman.
"It's crazy. It's crazy. But we're turning it around."
Kushner 'registered to vote as a woman'
It is not known when the president last went to a supermarket.
CNN journalist Jim Acosta tweeted: "Trump out of touch here… you don't need an ID to buy groceries."
Acosta was later heckled live on air by Trump supporters who shouted "liar" and "CNN sucks". The presenter tweeted a clip, which contains strong language.
A Texas Democrat, Carol Alvarado, was among those who took a jab at the president.