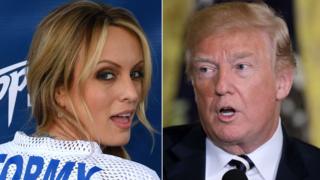 US President Donald Trump has mocked porn actress Stormy Daniels in a tweet after a judge dismissed her defamation lawsuit against him.
The judge ruled that a presidential tweet Ms Daniels said was defamatory was protected by the First Amendment, which guarantees freedom of speech.
Mr Trump said he can now "go after Horseface and her 3rd rate lawyer".
The ruling does not affect a separate lawsuit over hush money she says she was paid by Mr Trump's lawyer.
Ms Daniels was also ordered to pay Mr Trump's legal fees, although the amount is yet to be determined. Her lawyer said she would appeal against the decision.
Ms Daniels and her lawyer Michael Avenatti fought back in tweets of their own.
"Ladies and gentlemen, may I present your president," Ms Daniels wrote, saying Mr Trump had shown his "incompetence, hatred of women and lack of self control on Twitter".