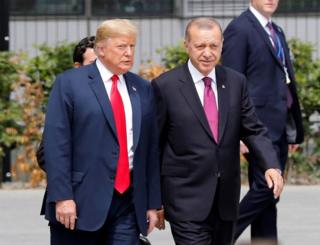 President Trump has doubled US tariffs on Turkish steel and aluminium, as the precipitous fall of the Turkish lira accelerates.
In a tweet, Mr Trump said the currency was weak against "our very strong dollar", adding that "US relations with Turkey are not good at this time".
Turkish President Recep Tayyip Erdogan said in a speech that the drop was part of a "campaign" led by foreign powers.
The lira has lost around 20% of its value in the last 24 hours.
It had already fallen more than 40% in the past year.
Turkey's lira slump explained
Is Turkey heading for an economic crisis?
In a televised speech on Friday, Turkish President Recep Tayyip Erdogan called on citizens to exchange foreign currency and gold for lira, calling it an "economic war".
"This is a domestic and national struggle." he said, as the lira continued to fall.
After he spoke, Mr Trump tweeted that aluminium tariffs "with respect to Turkey" would be raised to 20% and steel to 50%.
The reaction from global currency markets to the rift between two Nato allies caused the euro to slump to a 13-month low and pushed the dollar to a one-year high.
---
The bazaar feels the squeeze
Analysis by Selin Girit, BBC News, Istanbul
It has been a dramatic day in Turkey but the Turkish government has put on a brave face.
President Erdogan's rhetoric goes down well with his supporters but not necessarily with international markets.
Some will adhere his call to exchange their dollars, euros or gold for Turkish lira but many others have started feeling the squeeze.
Interest hikes, which Mr Erdogan sees as the mother of all evils, are not very likely to happen.
President Erdogan may seek help from the IMF, following the example of Argentina, but that is not likely either as it would have strings attached, and would be frowned upon in Turkey.
There is a feeling that the quickest and most efficient step could be to ease the tensions with Washington.
---
Shortly after Mr Trump's tweet, Mr Erdogan spoke on the phone with Russian President Vladimir Putin.
A statement from the Kremlin said the two leaders had discussed economic and trade ties.
Officials from Mr Erdogan's office said the two men had "expressed pleasure" that relations between Turkey and Russia were progressing "positively" amid joint defence and energy projects.
Diplomatic relations between the US and Turkey have declined since the failed 2016 Turkish coup.
An all-time diplomatic low
Earlier this month, the Trump White House hit Turkey's justice and interior ministers with sanctions over the country's ongoing detention of an American pastor.
Turkey is accusing Andrew Brunson – who operates a small church in Izmir – of having links to the outlawed Kurdistan Workers Party and the Gulenist movement, which Turkey blames for the failed coup.
He had been held in prison for almost two years, but was recently moved to house arrest due to health issues.
American evangelicals have rallied to his cause, triggering the recent reaction from the Trump White House.
Turkish officials have been in Washington this week for talks on his release but these seemed to fall apart in recent days.
The US has also been refusing to extradite Fethullah Gulen, a cleric and former Erdogan ally who has been living in the US state of Pennsylvania, and that Turkey accuses of leading the attempted "Gulenist" coup.
Turkish politicians are also furious at American military support for Kurdish militia fighting the so-called Islamic State in northern Syria.
Mr Trump's rejection of the Iran nuclear deal has also been a point of contention between the two nations.
Half of Turkey's oil imports come from Iran. Therefore the re-imposition of US sanctions against Iran has been seen by economists as likely to harm the Turkish economy.