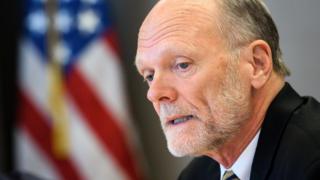 The UN migration agency's member states have rejected President Trump's nominee for director-general, making it only the second time in the agency's history that it will not be led by an American.
Ken Isaacs, an executive with a Christian charity, was eliminated after three voting rounds, AFP reported.
Mr Trump's anti-immigration policies, including separating children from parents, have been widely criticised.
The White House has also proposed cutting UN funding.
Mr Isaacs meanwhile has a history of anti-Islam comments.
Antonio Vitorino, a Portuguese former EU commissioner, has been elected to lead the International Organization for Migration (IOM) instead.
Diplomats said Mr Vitorino's bid had been helped by EU efforts to find a common response to the migrant crisis.
What is the Trump travel ban?
'Imagine your child clinging to your leg'
Migrant families separation: The big picture explained
Mr Isaacs made his Twitter account private after his nomination for the IOM leadership in February led to criticism.
The Samaritan's Purse executive had previously described Islam to be an inherently violent religion on numerous occasions and retweeted xenophobic material.
He has also refused to recognise the link between human activity and climate change.
Could the migration crisis finish the EU?
Gruelling migration talks end in draw
Reality Check: Is Italy taking in thousands of migrants?
Having seen off Mr Isaacs' challenge in the leadership ballot, Mr Vitorino defeated the IOM's current deputy leader Laura Thompson, from Costa Rica, in a fourth round of voting.
He replaces veteran US diplomat William Lacy Swing.
The IOM has been led by an American throughout its 67-year history with one exception, from 1961 to 1969.