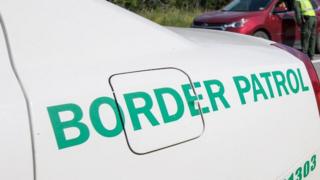 A US Border Patrol agent has been arrested in the state of Texas on suspicion of killing four prostitutes.
Officers began looking for Juan David Ortiz in the city of Laredo after a fifth woman allegedly escaped from him and got help from local police.
Mr Ortiz, who has worked for the force for a decade, initially fled but was later arrested in a hotel parking lot.
Webb County Sheriff Martin Cuellar said police believed Mr Ortiz had acted alone.
"The county, the city can rest assured we have the serial killer in custody," Sheriff Cuellar said, in quotes reported by the Laredo Times newspaper.
Two of the victims were found earlier this month in a rural area by the Interstate 35 road, and the third and fourth victims were found in the same area in recent days, according to local reports.
Why were there so many serial killers in the 1980s?
Golden State Killer suspect traced
A 42-year-old woman had been found injured on Thursday but died in hospital.
'Horrific case'
District Attorney Isidro Alaniz described the killings as a "horrific case" and confirmed Mr Ortiz was set to face four charges of murder and one of aggravated kidnapping.
He said the cause of death was similar for all four women who, authorities believe, were killed over two weeks.
He said all of the victims had worked as prostitutes and that investigators were trying to find a motive for the killings.
The Texas Tribune reports the fifth woman fled from a petrol station after Mr Ortiz allegedly pointed a gun at her when she tried to get out of his vehicle.
Andrew Meehan, assistant commissioner for public affairs for US Customs and Border Protection, confirmed in a statement that the agency was co-operating with police.
"Our sincerest condolences go out to the victims' family and friends," he said.