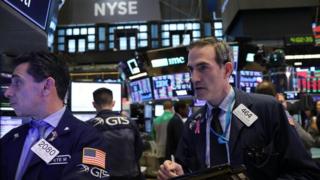 A sell-off in US stock markets has continued with a second day of steep declines.
Despite early gains, losses on the indexes accelerated later in the day, extending earlier drops in Europe and Asia.
The Dow Jones and S&P 500 both closed down more than 2%, while the Nasdaq slid about 1.25%
The falls came amid concerns about rising interest rates and slowing global growth.
The White House dismissed the falls as a much-needed correction, but then US President Donald Trump stoked fears about the impact of recent interest rate rises with an attack on the Federal Reserve.
He called the Fed "out of control", adding that he was "disappointed" by its policies.
Energy firms led the slump, as oil prices posted steep declines.
Companies in the financial and property sectors – industries sensitive to higher rates and exposed to risk from Hurricane Michael – also took a beating.
Trump says Fed is 'out of control'
Earlier in London, the FTSE 100 share index tumbled 1.9% to close at 7,006 points.
France's CAC 40 slid 1.9% to 5,106 points, while Germany's DAX fell 1.5% to 11,539 points.